We'll Buy Your
Used Car!
No obligation. No hassle.
1.

Get An Offer

Receive an instant offer by answering a few simple questions.
2.

Schedule Your Appointment

We'll schedule an appointment via text or phone call. Most appointments take 20 minutes or less.
3.

You Get Paid

After a quick on-site verification of your vehicle, we will handle all of the paperwork, making it easy for you to set up your payment.
1.

Title or payoff information on your vehicle.

All title holders should plan to be present. If there is a previously paid‑off lien listed on the title you'll also need the release from the lien holder.
2.

A valid, state-issued photo ID for all title holders.

These may be a valid driver's license, state-issued identification card (for non-drivers), passport, or passport card.
3.

All keys, remotes, and Owner's Manuals.

Any missing original keys, remotes, or Owner's Manuals may result in your offer being adjusted.
IMPORTANT!

If you do not have the required items, we still may be able to complete the sale.

We'll guide you through the process and help make arrangements to gather what's missing.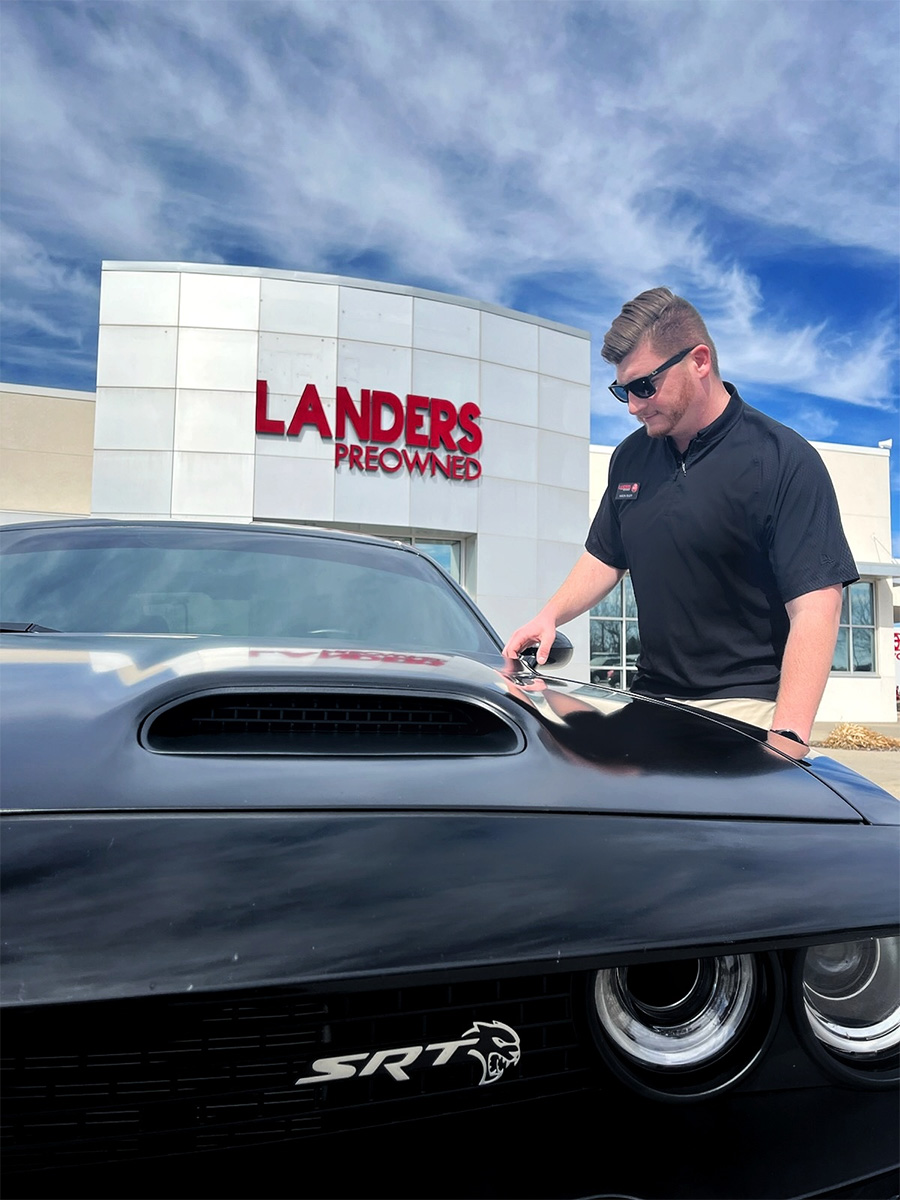 What
we do

...

In addition to being one of the nation's leading used car SELLERS, we're also one of the largest BUYERS. After your car has been appraised at one of our dealerships, you'll receive a written offer.

But don't worry... we'll handle all of the paperwork! You are under NO obligation to accept the offer. We'll buy your vehicle even if you don't buy one from us.
See what others

are saying...

"Super seamless process"
★ ★ ★ ★ ★
Kirstin J.
Sold my car here and it was a super seamless process. I definitely appreciated working with Aaron, who was very genuine, super friendly and made everything extremely convenient. Thanks again!

"Experience is unparalleled"
★ ★ ★ ★ ★
Vimal N.
Seamless experience on a trade in and Lucas was great to work with. Local touch with the simplicity of a virtual online experience is unparalleled.
Frequently
Asked Questions
Don't see the answer you're looking for below? Click

here

to get in touch with us.
Q:

How will I be paid for my vehicle?
A:

After the sale is complete, we will issue a check made payable to the name(s) listed on the title.
Q:

What about the paperwork?
A:

We'll take care of all the paperwork on the spot!
Q:

Do I need an appointment?
A:

No, appointments are not required, but for your convenience we will gladly accept them. Simply fill out the contact form, or you can visit a Landers dealer during our normal hours. Appraisals generally take 20 minutes or less.
Q:

Can I sell my leased car?
A:

In most instances, you can sell your leased car in almost the same way you'd sell any other financed car. We'll appraise the vehicle, contact the leasing company for a payoff quote, and process any equity you might have.
Q:

What if there is a lien on my car?
A:

To pay off the lien, we will need a) your lien holder's name and phone number, b) the name(s) on the account, and c) your account number and social security number. We will then contact your lien holder and obtain a 15-day payoff. If there is a previously paid-off lien listed on the title, you'll need both the title AND the release from the lien holder before we can purchase your car.
Q:

How will you appraise my vehicle?
A:

That question is best answered in person, by the appraiser, because circumstances can vary so greatly. Our appraisers will thoroughly explain the factors considered when your offer is determined. The first step is to visit a Landers dealer and ask for a We Buy appraisal.
Q:

What if I owe more on my car than what it's worth?
A:

When your payoff amount is more than the market value of your vehicle, the difference is called "negative equity." In some cases, that negative equity can be included in your financing if you buy a new vehicle from us. If not, we'll calculate the difference between your payoff and the market value, and you can pay that amount. We'll process the payoff and handle all the paperwork.
Q:

Can I sell a car on behalf of a company?
A:

Yes, but this is an entirely different set of circumstances. Please see a Landers Business Office Associate for details.
Q:

What happens to the cars Landers buys?
A:

While it is true that we buy just about any car, we offer only about half of them to the public. Every car we buy goes through a comprehensive inspection because we won't put our name on a vehicle unless we know it's right. Most of the vehicles that don't meet our standards are sold at auction to other dealers.